AGENDA e-ASIA JRP / Joint Coordination Committee (JCC 2020)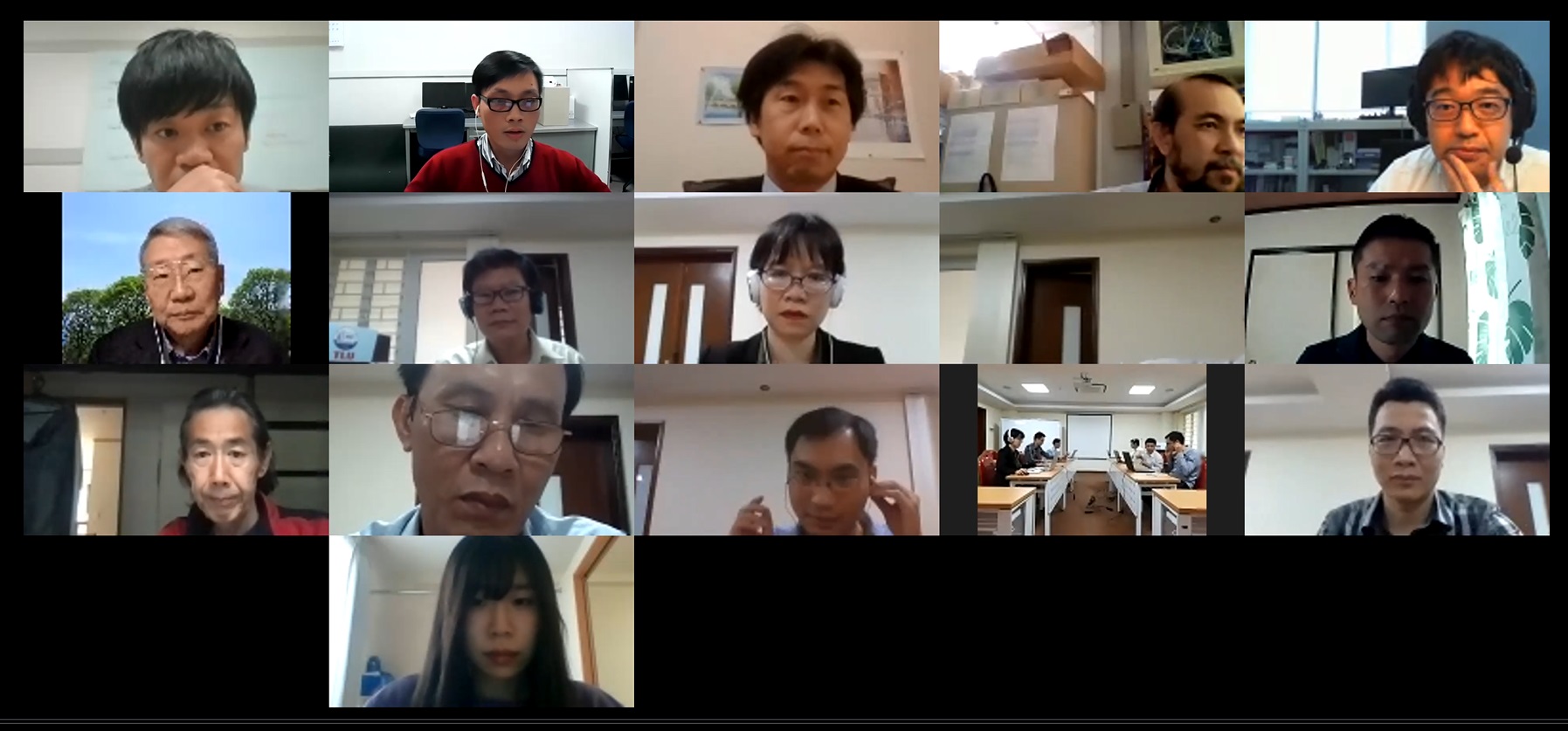 On 6 November 2020, a Zoom online meeting namely the Joint Coordination Committee 2020 (JCC 2020) was held to share the results under the influence of Covid-19, and the plan for future research. In fact, due to the influence of Covid-19, the Japanese side will extend the research period by one year, while the Thai and Vietnamese sides will still proceed as originally planned.
Time: 15:00 – 17:00 (Tokyo) / 13:00 – 15:00 (Bangkok) / 13:00 – 15:00 (Hanoi)
Agenda items:
1) Opening remarks by Prof. Akihiko Wakai
2) Report for recent research progress and future plans in each country
Progress report by Prof. Akihiko Wakai
– Prototype of the early-warning system to be developed
– e-ASIA website (http://e-asia.ees.st.gunma-u.ac.jp/)
– Additional work on the disaster in Oct 2020 in Vietnam
Report of Geomorphological and geological research by Prof. Go Sato
– Research in a Homong village, Thailand
– Research in Sapa, Vietnam
– Research in Kochi, Japan
Report of research activities by Dr. Karnjana Jessada
– Real-time monitoring based on wireless sensor networks
– Change detection in multi-temporal satellite images
– Publication plans for JDR, VCDRR, and so forth
Progress report and planning by Prof. Hoang Viet Hung
– Preliminary investigation in TinhTuc research site
– Preliminary investigation in Sapa research site
– Publication plans
– Planning investigation and monitoring near the hospital in TinhTuc town
Progress report of developing tools by Dr. Ken T. Murata
– LPWA (LoRa) communication tool for no external power area
– iTowns: A 3D viewer
3) Paper submission plan for Journal of Disaster Research by Prof. Akihiko Wakai
– Deadline of full paper submission: November 30, 2020
– Checking of final manuscripts: March 10, 2021
– Tentative date of publication: June 1, 2021
4) Immediate technical report on a recent disaster in middle Vietnam by Mr. Nguyen Van Thang
– Introduction of the losses and damages
– Landslides due to Typhoon No. 7 in Rao Trang, Quang Tri, Quang Binh Landslides due to Typhoon No. 9 in Quang Nam Province
5) Future plans and the approximate time of our next online meeting by Prof. Go Sato
– Extending duration of Japan team: 2019, April  → 2023, Mar
– Additional plan work in Central Vietnam
– Next online meeting: June 2021
6) Free discussion
Landslide at army station Cha Lo Dan Hoa District Quang Binh province formed a dangerous reservoir.
Question by Prof. Hoang Viet Hung: How many potential landslides along Road 12
Geological survey, photographic measurement, and installing measurement were suggested.
If the landslide is stable, emergency prevention of dam break is needed.
7) Closing remarks by Prof. Hoang Viet Hung